Bu
i

lding Creat

i

ve Exper

i

ences

The Institute of Imagination brings you creative experiences to enable your teams to step outside of their everyday context and embrace creativity through serious play. Against a backdrop of rapid change through disruptive shifts like automation and artificial intelligence, our human capacity to be imaginative and dream up new ideas is what makes us unique. It's what makes your company unique. 
Why you need Creat
i

ve Teams

We understand that dynamic teams change, evolve and are responsive to shifts in strategy and organisational development. Creative Teams supports and nurtures these environments by bringing employees together and fostering communication, collaboration and active learning. Sometimes teams need positive and playful spaces to reconnect, reflect and share ideas. Creative teams designs these spaces.

The Institute of Imagination's 'Creative Teams' experiences place creative resilience, thinking and confidence alongside immersive and tactile activities, empowering your employees to take different perspectives on day-to-day challenges.
How does Creat
i

ve Teams run?

Across all our experiences we provide context, imbedding the creative sessions you choose into the context of your work and sector. Through immersive activities we draw out reflections, work collaboratively and share and showcase ideas. Each activity culminates in a reflection point to connect the experience to your employees' own context within the workplace.

You build your experience for your team: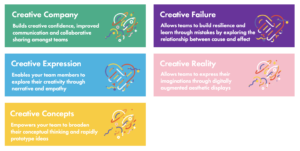 Creat
i

ve Teams Pr

i

c

i

ng

Creative Teams is brought to you by the Institute of Imagination, a non-for-profit working with children, schools and families from underserved and under- represented communities. We support children's learning through the development of vital skills such as creative thinking, problem solving and aspiration building. By participating in Creative Teams, your company is directly supporting this crucial work. 

Creative Teams is led by Associate Director Tom Doust who has over 20 years experience of working in the creative learning sector and a wealth of knowledge in designing creative experiences that foster innovation. Tom has worked on creative projects with a range of organisations including: 
The LEGO Group
Disney
Tate
Make a Wish
Dixons Carphone
For pricing please contact tom.doust@ioi.london
Creative Teams runs in your space. We visit your office or chosen venue. We leave catering and refreshment provision to you. Our team will set up your designated space with our activities (including materials) and we ask that you provide chairs and tables and access to a projector and screen. 
Bu
i

ld your Creat

i

ve Team

To begin a discussion on building your Creative Teams session, email Tom Doust, iOi Associate Director at tom.doust@ioi.london, or call 0207 494 9153.