Add to the stories of 1000 young people in the last of our Firebird Lab workshops on 14 July, in a finale performance and workshop.
This weekend is the exciting finale of 'The Firebird Lab', our cultural residency at the Imagination Lab from practitioners BitterSuite. 
They're busy transforming the Imagination Lab with set designer Natalie Dean into magical, multi-sensory and interactive set complete with a forest of imagination, tunnel of feathers, fiery artworks and a beautiful soundscape of young people voices. 
This is the set for a new, collaborative story created by over 1000 young people since May. But we don't know how it ends and we need your help to complete it!
Iow The Flowing Bird – a collaborative, multi-sensory story
'Iow The Flowing Bird' is a story and performance that's been created by the imaginations of 1000 people from across London, but it's not finished yet. 
Our young collaborators have been responding to different sections of the classical masterpiece 'The Firebird' by Stravinsky, and now all those ideas have been transformed into this imaginative, playful and immersive experience. 
All kinds of wonder have been shared, including jewelled lions, a fire phoenix, Tom and Jerry chases, unicorns, battles and more. Iow is a character created by young people who takes a journey through this imagined landscape – and you can join them. On 14 July you can help add your ideas to this finale performance.
Inside this den of imagination you can explore and uncover the secrets of the music and listen to stories in the voices of young people. The workshop and performance will be led by BitterSuite's artistic director and classical composer Stephanie Singer and dancer and movement facilitator Linzy Na Nakorn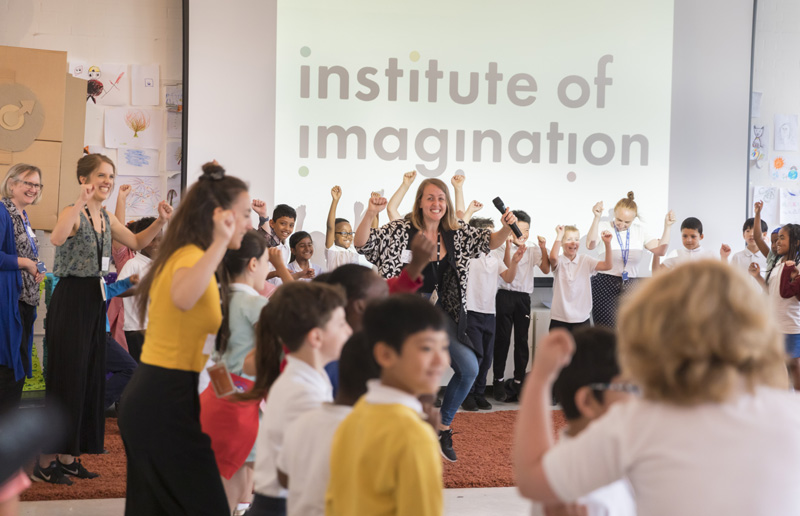 The story so far…
Since May, BitterSuite have been working with primary school classes, families and adults to understand and collect responses to different sections of the musical piece, The Firebird. The project has aimed to boost children's ability to understand the feelings of others, and share their own feelings, by sharing and exploring different responses to the same musical stimulus. Guided by Bittersuite, the young participants explored different ways of imaginative listening developing new languages for sharing their emotions – through textures, movement, pictures, sounds and smells.
"I was impressed to see how the kids had to courage to express themselves. It's explicit for the parents to be involved. It's really good."
Parent
Classical music is known to inspire ideas and emotions and with this as a starting point, this collaborative piece has been growing through many voices and ideas over time. Through this process, children have been understanding empathy and finding ways to grow their empathetic responses.  
Now, those ideas are being turned into this immersive final performance. 
Dancer and movement facilitator Linzy Na Nakorn explains more about how the children's ideas have shaped 'Iow The Flowing Bird':
"There are many different elements from the workshops that have been translated into parts of this final experience. For example, many of the children designed feathers and these designs have been enlarged to form a feathery entrance way, which plays with both texture and sound as you first enter the space. 

Imagined landscapes such as forests, battle fields and portals to new worlds also came out strongly in the young peoples responses to the music, so we've created a forest of imagination with hanging elements made of the textures that children picked to describe different emotions they felt when listening to the music.  

There are other sections which directly use creations from previous workshops. In one of the workshops, families created stepping stones of different textures from craft materials and designed sensorial and movement based interactions with them that encapsulate elements of their experience of the music . When you step on the stones, the textures inspire you to respond and move in the same way as the maker, stepping into their experience. In the final performance, these stepping stones are included in a 'wave of emotion' with the stones 'splashed' into the space as if they've tumbled out of the young people's imagination, flooding into the space for families to explore and respond to.

Most excitingly, voices of the children involved are part of a soundscape for the experience. Ideas, stories, responses and emotions have been recorded and edited by sound artist Jazlyn Pinckney, formerly of The Moth in New York. This is a wonderful capsule of emotion and storytelling from young people, sharing how this iconic piece of music made them feel."
The workshop and performance on 14 July is the last chance to add your ideas to The Firebird Lab. The soundscape and other elements of the final performance will remain in the Imagination Lab for visitors to experience.  
"I liked the part where we could draw how we where feeling"
Child, Age 9
The Firebird Lab lives on this summer
After this exciting finale, you can experience The Firebird Lab project through a listening pod at the Mega Maker Lab all summer and beyond designed by Freyja Sewell.

"Both of us where 100% involved, it's for the whole family together. Sharing thoughts and feelings. It was great"
Parent
The soundscape from the performance can be listened to in this intimate sound and smell experience. As smell was also a vital part of many of the workshops, Sarah McCartney of 4160 Tuesdays Perfumery has created three bespoke scents to accompany the soundscape within the listening pod. These scents will enhance the sound experience and are made from smells children shared that they associated with passages from the music to create a multi-sensory experience of The Firebird. The listening pod acts as an immersive space for young people to continue to find new ways of listening and sharing their responses.
The Cultural Residency is kindly supported by the Stavros Niarchos Foundation, Arts Council England and the D'Oyly Carte Charitable Trust.
Stay Up To Date
Sign up below to receive email updates on our events, news and campaigns. View our privacy policy for details of how your data will be stored and processed.