Our Imagination Architects are back and this time they're getting hands-on with construction workshops. The Mega Maker Lab is coming to life!
Transforming an empty space
This week, 50 primary school children are getting hands-on transforming a former fire engine workshop into the Mega Maker Lab.
From an empty 12,000 square foot warehouse, the size of about 20 London fire engines side by side, to an innovative summer experience for families, our Imagination Architects are bringing their ideas to life will drills, hards hats, a whole load of plywood.
Under the expert guidance of architectural educators MATT+FIONA and their Industry Champions Jestico + Whiles and volunteers from across London, children aged 7-10 are getting hands-on construction, design and engineering experience.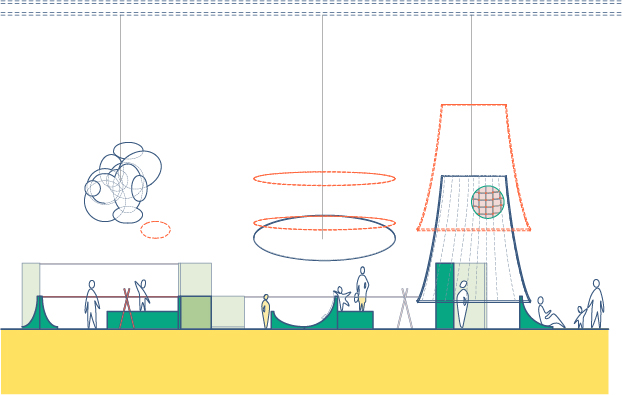 What are they building and why?
They are building ramps, performance platforms, aerial structures and dividing walls which make up component parts of a series of creative 'zones' around the massive hall. These zones are themed around play, ideas, challenges, testing and tools.
What makes this so special, is these physical components and how they are being positioned in the space follow on from design workshops in May where 100 children came up with the ideas for the Mega Maker Lab design, including many that returned to build their ideas. Together, the children explored the space and came up with a route that will lead the visitor on an exciting journey through different making and inventing activities. They also designed and built mini aerial structures to make the most of the height of the empty space, which are now being built on a large-scale!
How have the ideas from 100 children become a design?
Matt Springett from MATT+FIONA explains:
"Despite the fact that over 100 children have been designing the Mega Maker Lab, it is incredible to see how many similarities there are. For example, when it came to deciding the order of experience zones, clear trends are apparent. Nearly every child proposed putting the main performance space in the centre of the experience, quite a change from the original brief which had it at the end."
By taking similarities and trends from the designs across the school groups that contributed to the design process, MATT+FIONA were able to create heat maps to position the experience zones. They could also take the ideas from mini aerial structures to create a quiet, enclosed 'ideas zone' for focussed imagining and an innovative looping system to create a large aerial installation.
Fiona MacDonald from MATT+FIONA explains:
"One 10-year-old came up with an innovative way to create a floating, structural installation. By creating a double loop, he invented an easy way to join the single elements together to create a brilliant expanding 'cloud', a centrepiece that makes use of height of the warehouse space."
Pupils have been working with flexible plywood to create an aerial structure. This will be added to creations from a week of workshops and eventually elevated to be part of an interactive, aerial installation at Mega Maker Lab. The structure is flexible, so elements of it can be lowered and raised to make different patterns.
"We are tying two sticks together with cable to make a big cloud that will dangle from the ceiling. I didn't know how to bend sticks together to make a fish [the inspiration for the design] before, but you just have to go for it!"
Dalsie, Year 5
Pupils constructed ramps and flat, raised platforms, which will be used in the Test Arena at Mega Maker Lab for children to test junk model inventions and LEGO creations. The flat designs will be used in the performance and showcase area for seating and displays. These components are flexible and can be used as dividing walls in the space as well, so pupils learnt about designs which can be multi-use and fit together for different functions.
"Today we are making tables and ramps. I had never done drilling before, but I really like it"
Janet, Year 5
Come and see Mega Maker Lab this August
All the children's hard work can be enjoyed by you from 1-31 August at the Mega Maker Lab. They have built the infrastructure for a summer of invention, imagination and play. The experience will be open all August and you can find out more about it and how to book here.
Stay Up To Date
Sign up below to receive email updates on our events, news and campaigns. View our privacy policy for details of how your data will be stored and processed.