We're popping up in Jubilee Place Mall as part of the Winter Lights Festival with an interactive coding installation – Code Green.
Until 26 January, the Winter Lights Festival is taking over Canary Wharf with installations by some of the most imaginative and exciting international artists working with light art today. The theme running through the works  is sustainability, recycling and the environment, touching on everything from human's impact on biodiversity through the monumental Whale Ghost by artist Pitaya, to plastic waste through the work of community artist Mürüde Mehmet and local schoolchildren in Tower Hamlets. After dark the area is transformed into an exciting light wonderland, and the iOi is getting involved!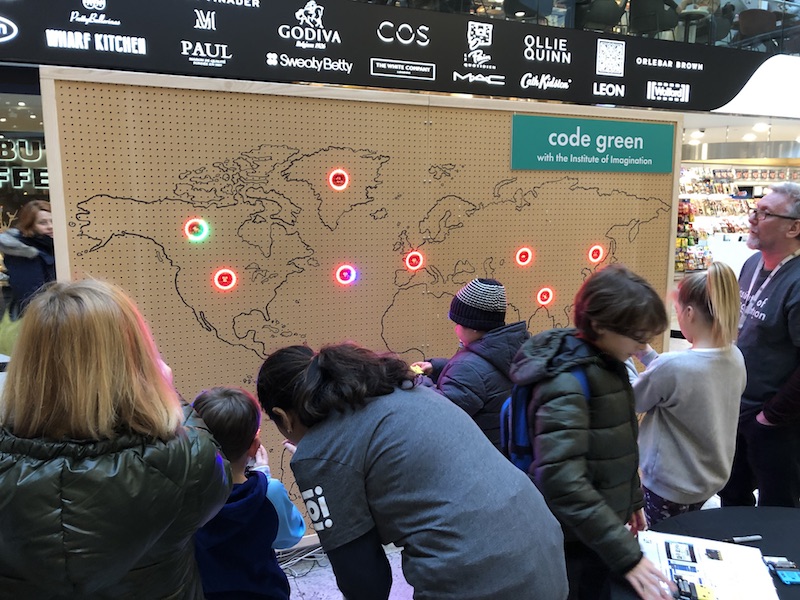 Our Code Green interactive installation 
Inspired by the festival's theme, we're popping up in the Jubilee Place Mall with an interactive light installation with a green twist. Using BBC Micro:bit, we're inviting shoppers to take on the coding challenge and turn the world green by making environmental decisions, in a collaborative coding game.
Through a set of 4 questions,  the game invites you to make a decision as to whether something is good or bad for the environment. You can turn LEDs across the world map green by making the right decisions, using Micro:bit to answer the questions.
You can pick up coding skills and challenge your environmental knowledge through the game, or if you have more time join the iOi team to learn more about coding Micro:bits with additional challenges.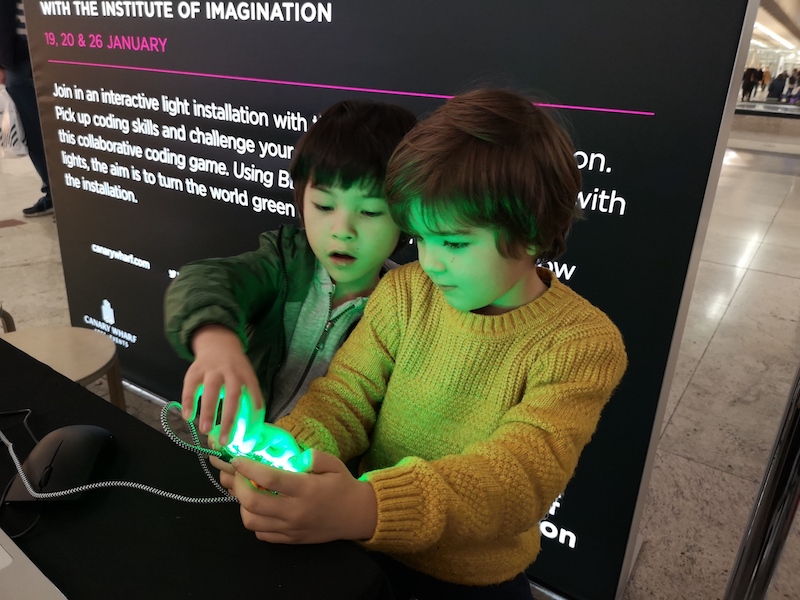 What is Micro:bit?
The BBC micro:bit is a handheld, programmable micro-computer that can be used for all sorts of cool creations, from robots to musical instruments – the possibilities are endless! It can be coded from any web browser in Blocks, Javascript, Python, Scratch and more.
Where can I find the installation? 
We'll be in Jubilee Place Mall, an underground shopping mall on the south side of Canary Wharf, which you can access directly from the Canary Wharf underground station (look for the Oliver Bonas, Itsu and Starbucks, we'll be near there!). We popped up on 19 and 20 January and we'll be there on Saturday 26 January between 10:00am – 22:00pm. The activity runs continuously as a drop-in activity, with simple challenges if you only have a short amount of time, or more complex challenges if you have longer to spend with us.
Who is Code Green for?
The activity is suitable for all ages, adults and children alike, and no prior coding knowledge needed – so whoever you're visiting Jubilee Place Mall with, come and find us to give the activity a try.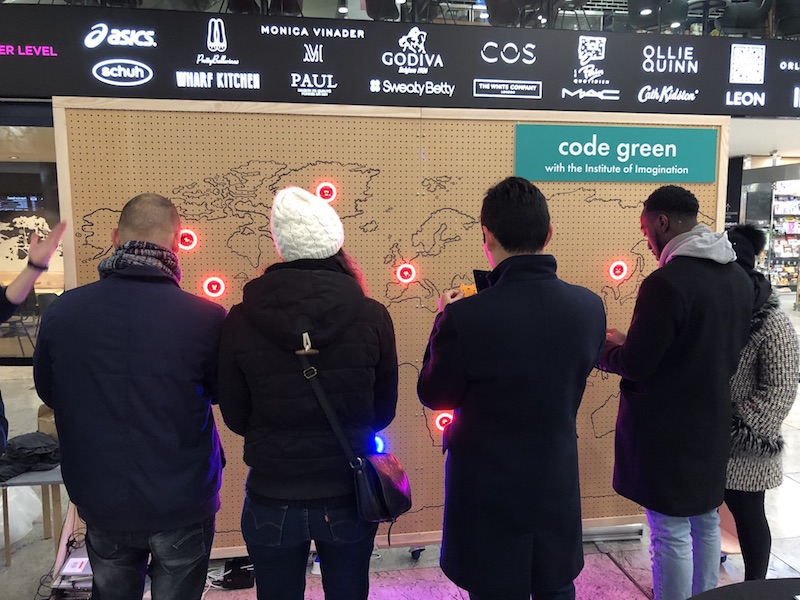 Visit our what's on page for details of how to get to Jubilee Place Mall.
Can't make 26 January but interested in Micro:bit? We've got a February Half Term skills camp, Lab Liftoff: Micro:bit & Make, which uses Micro:bit as the springboard for a whole day of creative inventions and collaborative activities for children aged 7-12 years. Find out more about the camp on 20 February.
Stay Up To Date
Sign up below to receive email updates on our events, news and campaigns. View our privacy policy for details of how your data will be stored and processed.